February 19, 2014
Off to the game with I Family!
News from the I Family team in Italy about an exciting new partnership…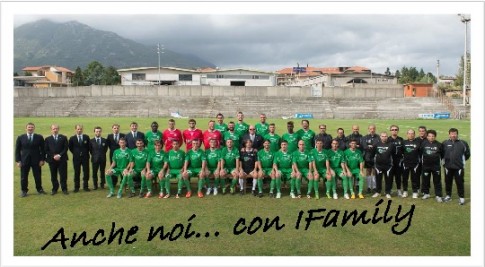 The I Family study is a screening of food habits in European children; in Italy, the project is carried out in the province of Avellino under the responsibility of the CNR Institute of Food Science and with local NHS section "ASL Avellino".  I Family now has a prestigious "supporter", and supporter is definitely an appropriate word because it is F.C. Avellino – the local Serie B football team, the Avellino Wolves, who are performing so well this season.
F.C. Avellino owner Walter Taccone has invited children taking part in I Family and their parents to visit the stadium and watch the team play a home game.
It's certainly an attractive incentive for participants in this high-level scientific project.  One classroom from each participating school will be selected to attend the football match, based on their adhesion rate to the project. The more children participate, the higher the chance of visiting the stadium. Selected children and their parents will attend home matches at no cost.  The relationship between F.C. Avellino and I Family will last until May 2014, up to the end of the current football season.
Once again, Avellino and surroundings is providing an efficient support to institutional activities for public health, and for children's health in particular. Further, this province leads the way in twinning high-level sport competitions and public health initiatives.
The agreement between F.C. Avellino and the I Family Study deserves attention because it clearly documents the potentiality of such "liaisons" in increasing participation in population-based research projects. Since F.C. Avellino offered support to I Family, the number of participating families has increased.  And further, twinning with a football team may deliver an additional healthy message, encouraging children to practice sport.
So we say "Go Wolves Go!" and all the best for our favourite team!