I.Family Study – Italy 
In Memoriam: Gianvincenzo Barba, MD, MSc
It is with great sadness that we, all members of the IDEFICS and I.Family consortia, have to say goodbye to our dear colleague and friend Gianni Barba, who unexpectedly passed away last 4th June, 2014.
Gianni was a researcher at the Institute of Food Sciences, National Research Council (Avellino, Italy), and had long-standing experience in population studies on adult and childhood obesity and community-based nutritional interventions. He was co-chair of the work package 'Physical activity and the built environment' within the I.Family project, and coordinated the field work and intervention activities in Italy in the framework of both the IDEFICS and the I.Family study. Gianni made important contributions to our research on lifestyle factors, nutrition and sedentary behaviour in relation to overweight and obesity in children's health.
Always striving for the best possible achievements, Gianni liked to quote Jean Giranoux: "Only the mediocre are always at their best". We lost a very valuable colleague and a great friend. It was always a pleasure to work with him and we will miss him deeply.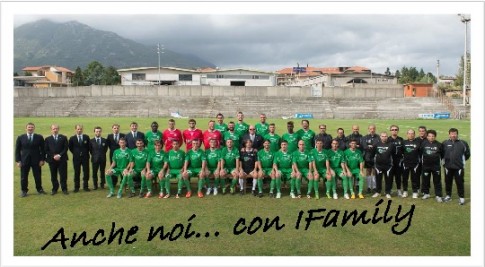 I.Family Italia has teamed up with the Avellino football team!  Read more
Summer time, school closed and I.Family too. But just for a while, back in September again around in the province of Avellino. To date, roughly 270 adolescents and their families have been visited, a real tour de force to fit in with school duties. Examinations were carried out in the schools, but also a point-of-care was set up at the Institute of Food Science in Avellino, in order to let families participate as well, at different times from school availability. Additionally, to encourage families'participation, three different blood drawing centres were made available by the local National Health Service, so making it easy to reach I.Family from any part of the province.
Easy to reach, but also easy to contact: for the purposes of I.Family interaction between the staff and the participants, an especially dedicated Facebook account, I.Family Italia, was created to connect people with people and allow for information exchanges throughout the net.
I.Family was designed for the family and the families were fully involved throughout the project: 230 parents, mostly mums, were visited within their childrens' schools or at ISA CNR, and enthusiastically participated in the activities. Questionnaires, computer tests, physical examinations, parents and children stayed together once more. Mr. Pellicano, father of two I.Family children, told us "I.Family was a huge moment to be shared with my kids and filling in the questionnaires, although time consuming, was a good opportunity to share and discuss within our family the reasons for food choices."
Carrying out I.Family was extremely challenging for the team working in the field. Getting in the adolescent universe provided a unique and timely research perspective, and doing this in the family context was extremely useful to go to the heart of the problem, and possibly answer the question "are we what we eat?"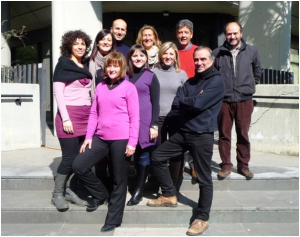 Il Team Italiano:
Fabio Lauria, Marika Dello Russo, Emilia Donatiello, Paola Russo, Alfonso Siani Pino Iacomino, Sonia Sparano, Annarita Formisano, Tina Nappo, Gianni Barba
(Above left) Field Staff  (Above right) Staff Meeting  (Below) School Visit