September 28, 2015
I.Family's Young Researcher exchange scheme
"Having the opportunity to work in the I.Family Study widened not only my career, but my life and mind too."
As part of the I.Family Study, a bursary scheme enables young researchers (PhD students and recent postdoctoral researchers) to make short visits to other project partners or to attend major conferences.  Here we feature some short accounts of their experiences.
Natalie Michels – Ghent University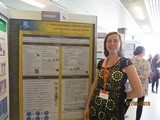 I received an I.Family exchange bursary to present at the ECO (European Congress on Obesity) in Prague, May 2015. My poster was on the relation between stress and obesity in a subpopulation of IDEFICS/I.Family. I gained some really interesting contacts, including a similar study in Scandinavia and a possible collaborator partner from France. The congress gave me also a lot of ideas for future projects on inflammation and hydration in children. Finally, it allowed me to reconnect to some of the IFamily partners.
María L Miguel Berges – GENUD research group, University of Zaragoza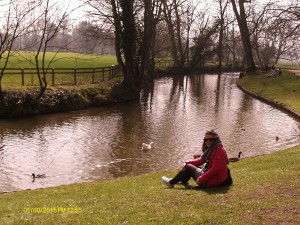 Thanks to the I.Family bursary, I had the pleasure of going to Bristol for two months, to their Centre for Exercise, Nutrition and Health Sciences of University of Bristol. At first, I was frightened because everything was new for me, and my English was not very good. But the directors and the group treated me very well and they were very accommodating. I was able start a new paper about sedentary time and its association with the metabolic syndrome. Moreover, I could improve my English and improve my knowledge about programmes in physical activity. I recommend undertaking an exchange to all young researchers, as it is a good experience to meet new groups who work on the same topic, and also an opportunity to see new places."
Monica Hunsberger – University of Gothenburg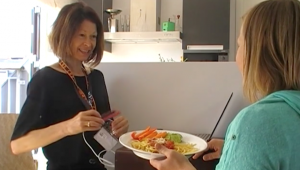 Thanks to the bursary, I was able to spend a week working with partners at Copenhagen Business School last summer, July 2014.  Wencke Gwozdz and I used the time to shoot the Canteen Experiment training video. This demonstrated how to make specific alterations to school canteen setups and provide symbolic incentives to children to make healthier choice, and to evaluate the results. During this week, we wrote the script that guided other partners through the Standard Operating Procedure, set up a mock canteen, scanner, access data base, bought food for building a mini canteen and shot the video.
Tatiana Sadalla Collese – University of Zaragoza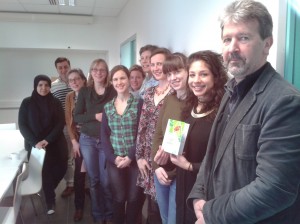 Having the opportunity to work in the I.Family Study widened not only my career, but my life and mind too. I have had unique experiences with IDEFICS adolescents, their siblings and parents, and I was curious as to how culture impacts their lifestyle in other European settings. My exchange involved visiting our partners in Ghent. In the very first step you must stop and wait for all bicycles to cross the street. But what surprised me the most is that, although there were plenty of them riding non-stop, they could manage to organize themselves cooperatively. The same was true of our academic partners –a talented, expert team, working in a peaceful and pleasant environment. For example, during the fieldwork even the kids seemed very quiet, patient, and alert. It amazed me that even when taking blood or hair samples, they were calm and cooperative.  I have learnt a lot about organization, planning, commitment – and also that Flemish is a challenging language! People were always sympathetic and helpful, making everything extremely enjoyable, and of course, covered with exquisite Belgian chocolate – alstublieft!
Sara Estecha Querol – University of Zaragoza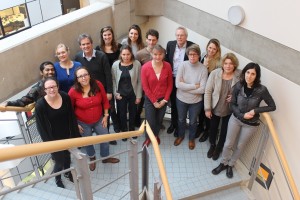 When the I.Family fieldwork was done in Zaragoza, I decided to apply for the I.Family Young Researcher bursary in order to meet other partners from the I.Family study and see how they worked. I did the exchange in the University of Utrecht (Netherlands), analysing our data with a specific focus on adolescents' body image concerns and eating disorders. I believe that I chose the perfect place to stay in, working with a supportive group who have special expertise in this topic, and would like to thank all my supervisors (Unna Danner, Roger Adan, Hans Wijbrand Hoek and Anna Keski – Rahkonen) – I learnt a lot from them! I t has been a great experience both from the personal and professional point of view and I'm delighted to have been part of their research group.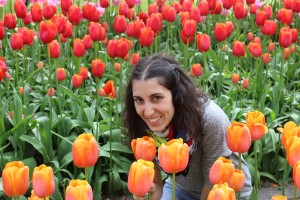 Leonie-Helen Bogl (University of Helsinki)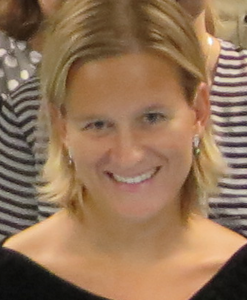 I visited the Public Health and Epidemiology Unit based at the Sahlgrenska Academy at the University of Gothenburg (UGOT) for 8 weeks at the beginning of 2015. Everything was very well prepared for me in Sweden upon arrival and I felt very welcome. We worked on deliverables and publications for the work package on the family and its environment. Because our I.Family team in Helsinki is small, I especially enjoyed the teamwork and opportunity to meet and exchange with the Swedish I.Family collaborators. Together with PhD student Louise Arvidsson, we investigated differences in diets of families in intervention versus control communities five years after the IDEFICS intervention ended. We found that families in the intervention families had a better diet quality (indicated by lower sugar and a higher water propensity) than families in the control communities. Because we haven't collected data at Helsinki, it was especially interesting to get insight into this and spend an afternoon at the Östra Hospital, where the fMRI experiments were carried out. All in all, working with our partners in Sweden was a highly motivating and enriching experience!