These images are available for media use at higher resolution on request. 
I.Family Backgrounder
Project Summary
Building on data gained from over 16,000 children in the IDEFICS study, the EC funded project I.Family will provide further insight into the most important influences on Europe's young people, their lifestyle behaviour and their eating habits.  I.Family will do this by re-assessing families as their children move into adolescence, identifying those families that have adopted a healthy approach to food and eating habits and those who have not. The project will help us understand the biological, behavioural, social and environmental factors that drive dietary behaviour as children journey towards adulthood.
With nutrition-related diseases causing a loss of over 56 million years of healthy life of European citizens as reported in the year 2000,[1] policy-makers and healthcare professionals need to be sure how they can best support families to achieve healthier lifestyles. Families and individuals themselves will also benefit from the clarity provided by I.Family's results, helping them to establish the ground rules that will lead to enjoyment of a longer healthier life. Using a longitudinal approach, the project will then investigate health outcomes such as obesity and metabolic disorders and identify early markers of these outcomes.
Features of the I.Family project
(1) Unique cross-European cohort
I.Family is generating a cross-European child cohort unique in both scale and depth of information. Building on the earlier IDEFICS study, I.Family will gather detailed longitudinal and developmental data (from early childhood to adolescence, i.e. from 2 to 15 years of age) on children and their families, including key biomarkers and genetic data. With a baseline size of 16,000, the cohort offers sufficient statistical power to investigate associations and – because of its longitudinal element – to investigate causal relations as well. The study has a huge comparative potential owing to its geographical spread across eight European countries (Spain, Italy, Cyprus, Hungary, Estonia, Germany, Belgium, Sweden) – the resulting heterogeneity of lifestyles and diets allowing for more robust causal inferences. Finally, the cohort will also assess the sustainability of a primary prevention programme addressing overweight and obesity which was initiated as part of the IDEFICS study.
(2)  I.Family focuses on 'tweens'
I.Family examines the transition from childhood to teenage years – a time when children are becoming more independent of family influences, but are still heavily dependent on the immediate family. By tracking children's development across these transition years, and by examining the family environment in depth – including siblings as well as parents – I.Family will be able to study exactly how the family continues to influence children's health and health-related behaviours as they grow up, and the way in which teenagers become more independent.
(3)  A comprehensive view of health-related factors and health outcomes
I.Family integrates the study of actual dietary behaviour with other health-related behaviours (for example, physical activity) and other factors influencing these behaviours (for example, psychological traits, taste preferences, genetic markers, family and school influences, and neighbourhood environments). By gathering information about children's current health, and drawing on the detailed information we already have about the children in their early years, we will be able to investigate the pathways to different health outcomes (for example, obesity and metabolic disorders) and their precursors in children as they grow up. By its longitudinal design the study will help to identify early prognostic markers of later health outcomes to guide novel avenues for prevention.
(4) Unique methodological aspects
I.Family uses several distinctive methods for such a large cohort of children drawn from the general population. It will gather uniquely comprehensive information on physical activity, by combining accelerometer data on physical activity levels with GPS tracking and objective measures of the built environment. This will allow the study to reveal how the environment influences children's activity and behaviours. I.Family will also measure sensory taste perception, genetic and environmental determinants of taste preferences, their impact on food choice and how these change as children grow up. Not least, differences in brain activation during (un)healthy food choice will be measured by functional neuro-imaging in children and their parents selected on the basis of their actual eating behaviour.
(5) Looking at contrasting groups of children in detail
In a smaller sample, I.Family will investigate more closely contrasting groups of children and their families to see how and why children's dietary and health-related behaviours change over time. The study will look closely at children who have improved in these respects, and at children whose habits became less healthy during the observation period. By this means, we hope to assess barriers to healthier behaviours as well as to determine which factors are most important in supporting healthier behaviour. Looking at the family and its environment will give a wider view of social influences, enabling us to formulate policy directions that can really improve diet and health.
I.Family and its forerunner, the IDEFICS project
IDEFICS (Identification and prevention of Dietary- and lifestyle-induced health EFfects In Children and infantS) was an EU Framework 6 Integrated Project that built up a large (c. 16,000 children) cohort across eight European countries. It ran from September 2006 to February 2012 and involved many of the same partners as I.Family. As well as building up detailed longitudinal information about the children, including a wide range of biomarkers and family information, IDEFICS also included a comparative intervention study. In each of the eight countries, two comparable regions were selected, and a standardised intervention – designed to promote health living and prevent obesity – was undertaken in one.
I.Family is an EU framework 7 Collaborative Project that aims to track this same cohort into adolescence, running from March 2012 to February 2017. The study has two strategic objectives: (1) to understand the interplay between barriers and drivers towards healthy food choice, and (2) to develop and disseminate strategies to induce changes promoting healthy dietary behaviour in European consumers, especially children, adolescents and their parents. To achieve the first aim, I.Family will undertake a detailed study of families where diets and other health-related behaviours changed significantly, as against those where these have remained stable. This should help us to understand why families maintain healthier behaviours, or improve in this direction, as well as why families remain with unhealthy diets, or move in an unhealthier direction. The impact of the observed health-related behaviours on selected health outcomes will also be investigated. This will feed into the second aim, which will be further supported by consumer research and by studying lasting effects of the IDEFICS intervention.
The diagram below summarises the relationship between I.Family and the IDEFICS projects.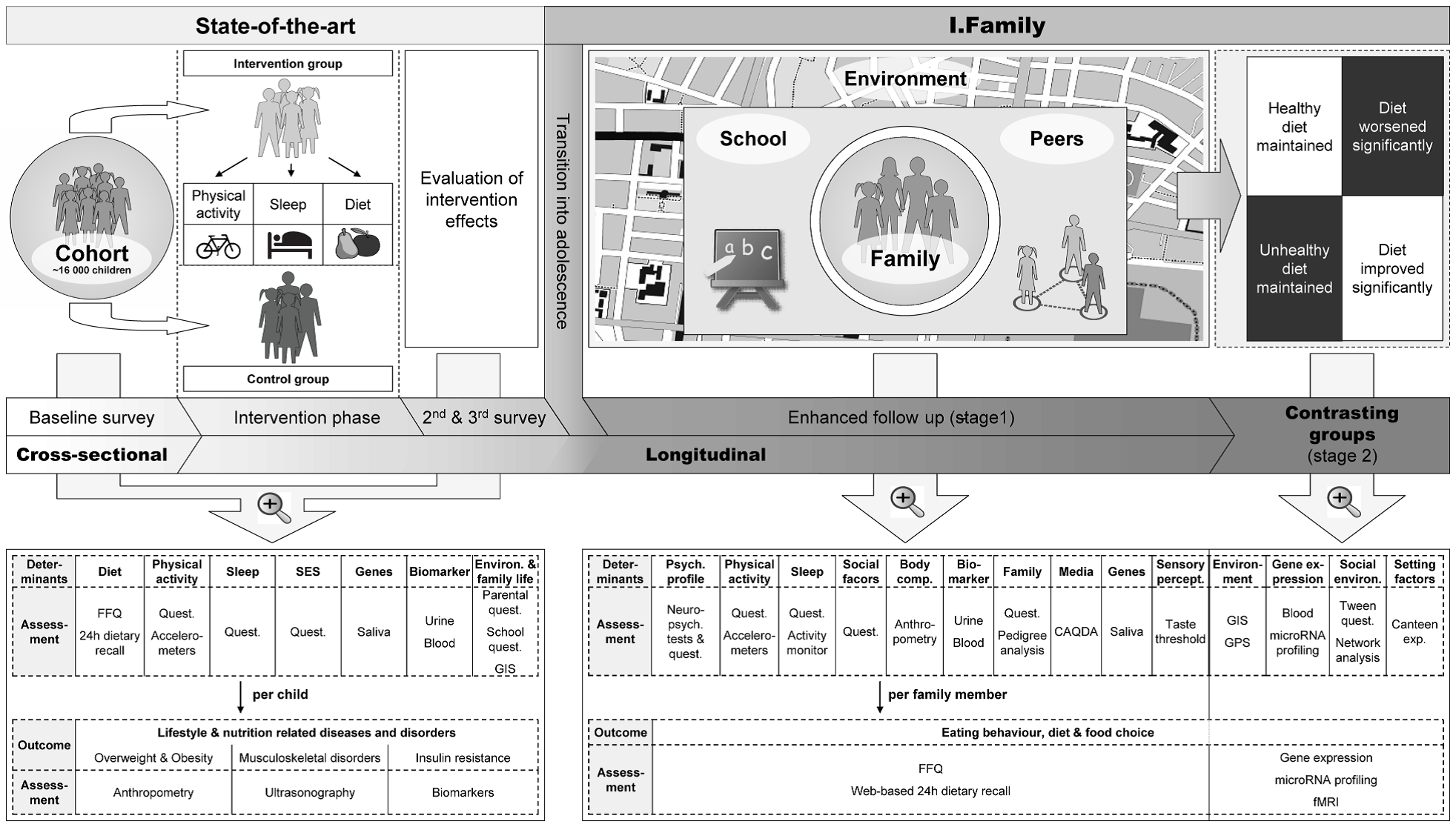 Members of the I.Family consortium & their key responsibilities
Participant organisation

Lead investigator(s)

Key responsibilities

University of Bremen, Germany

Wolfgang Ahrens

Project coordinator

BIPS – Institute for Epidemiology and Prevention Research GmbH, Germany

Iris Pigeot

German cohort, statistics
Deputy Co-ordinator

Institute of Food Sciences, National Research Council, Italy

Alfonso Siani

Italian cohort, nutritional epidemiology

Deputy Co-ordinator

Copenhagen Business School, Denmark

Lucia Reisch,
Wencke Gwozdz

Consumer behaviour & environmental influences

University of Lancaster, United Kingdom

Garrath Williams

Ethics, policy, and stakeholder engagement

Sahlgrenska Academy at the University of Gothenburg, Sweden

Staffan Mårild,
Lauren Lissner

Swedish cohort, family analysis

University of Helsinki, Finland

Jaakko Kaprio

Familial aggregation & genetic modelling

University of the Baleares Islands, Spain

Andreu Palou,
Catalina Picó

Genomic analysis

University of Pécs, Hungary

Dénes Molnár

Hungarian cohort

Rudolf Magnus Institute of Neuroscience, The Netherlands

Roger Adan

Neuroimaging & neuropsychology

Research and Education Institute of Child Health, Cyprus

Michael Tornaritis

Cypriot cohort

National Institute for Health Development, Estonia

Toomas Veidebaum

Estonian cohort

Fondazione IRCCS Istituto Nazionale Tumori, Italy

Vittorio Krogh

Dietary assessment methods

University of Bristol, United Kingdom

Angie Page,
Ashley Cooper

Physical activity monitoring

Minerva PRC Ltd, United Kingdom

Rhonda Smith,
Marc Catchpole

Dissemination and communication

University of Zaragoza, Spain

Luis Moreno

Spanish cohort

Ghent University, Belgium

Stefaan De Henauw

Belgian cohort
---
[1]           Food and Health in Europe: A New Basis for Action, WHO, Regional Publications: European series 96: p. 7.