November 13, 2014
I.Family shortlisted for excellence in communications award!

Effective communication with children and young people is a key priority for I.Family researchers; after all, without them we have no study participants!
That's why we're so delighted our project has been shortlisted for a CommNet Impact Award, thanks to an initiative created by our Italian partners.
To address the challenge of engaging and retaining young participants, I.Family partners at the CNR Institute of Food Science in Italy approached the community's local football team, F.C. Avellino.  The partnership ran from the end of 2013 to the end of the football season (May 2014), to support the following project dissemination aims:
To engage children to continue in or enrol in I.Family.
To encourage children to think about healthy lifestyles.
Why use football as an engagement activity?
Successful engagement is easier to secure when research projects go to where their 'targets' are, rather than expecting participants to come to them – this is real outreach.
As the most popular global sport (FIFA World Cups attract over 700 million viewers in more than 200 countries), football carries major social influence. Children – both girls and boys – around the world play football with friends, and follow their favourite teams and players passionately.
By tapping into football's popularity, Italian researchers identified an effective opportunity for engaging young people in their own community.
How did it work?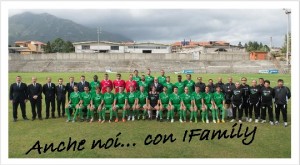 F.C. Avellino invited children already enrolled in I.Family, and their parents, to visit the stadium and watch the team play a home game, at no cost.
One classroom from each local school participating in the study was also selected to attend the football match, based on their sign-up adhesion rate to the study.  The more children who participated in I.Family, the higher the chance of visiting the stadium.
The initiative proved highly effective in increasing the number of both children and their families recruited into the study, and securing compliance with attending measurement sessions and completion of food and activity charts.
Kate Viggers, from Minerva Public Relations & Communications Ltd (the I.Family Study communications partner), says,  "This partnership is an excellent example of the potential of such relationships for increasing participation in population-based research projects, twinning high-level sport competitions and public health initiatives and, above all, incentivising and inspiring children and young people to become involved in what may be called 'citizen science'.
"Furthermore, twinning with a football team delivers an additional healthy message, encouraging children to practice sport, and is therefore of wider social benefit."
It's easy to see why I.Family has been shortlisted for an Impact Award, which recognises excellence in science communication in EU-funded bioeconomy projects (food, fishery, agriculture, forestry, biotech).
The winners in each category will be announced in the prestigious setting of the Brussels Crown Plaza on December 3rd, during the CommNet 3rd Bioeconomy Forum and Final Conference.
Congratulations to our Italian partners – and fingers crossed that I.Family brings home first prize!