April 30, 2015
I.Family supports scientific programme at ECO 2015
Principle investigators from I.Family joined other leading global obesity experts in Prague in May, at one of Europe's biggest health conferences.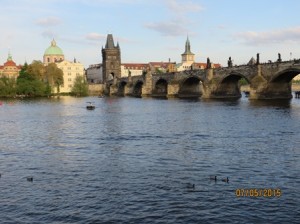 The European Congress on Obesity 2015 (ECO 2015) attracts thousands of delegates annually and this year took place in the Czech capital from May 6th to 9th.
ECO is an opportunity for Europe's foremost health academics to share innovative research developments and discuss latest preventive and treatment strategies in the fight against obesity and associated health issues.
Keynote speeches and a range of workshops were delivered, covering a broad spectrum of obesity-related topics including nutrition, behaviour and lifestyle, mental health, society and environment, and public health and prevention.
Watch our short film to find out what I.Family project members got up to at ECO – or read on!
I.Family researchers Dr Garrath Williams (University of Lancaster) and Professor Lauren Lissner (University of Gothenburg) presented at a joint workshop on primary prevention of overweight and obesity, hosted by the event organiser EASO  (European Association for the Study of Obesity) and the World Health Organisation.
Dr Williams focused on policy and ethics implications of early-life prevention, while Prof Lissner examined the possible adverse effects of primary versus secondary prevention.  Elsewhere in the scientific programme, Professor Monica Hunsberger, also from Gothenburg, gave an invited talk on early feeding practices.  And Dr Alfonso Siani, Deputy Co-ordinator of the project, presented some preliminary results of the project.
Dr Williams says, "ECO was a fantastic opportunity to share I.Family research and learn about the latest developments in the field.  In my talk, I looked at what policy-makers can learn from obesity intervention studies, and arguedthat policy really needs to focus on the systemic factors that determine the opportunities open to children and parents."
Young researchers from I.Family also took part in the Congress.  Faye Tucker, from the University of Lancaster, and Nathalie Michels, from the University of Ghent, presented on adolescent health behaviours and psychosocial stress in childhood, respectively.
"ECO was a great opportunity for me to learn about developments in obesity science and the issues around obesity that are currently being debated," says Faye.  "I am pleased that I was involved as it gave me the chance to present my recent work.  Attending the conference means I am able to better situate my own work within the wider context of obesity and health."
I.Family was also one of only 10 EC-funded projects to secure exhibition space in the dedicated EU Project Village at ECO2015, where representatives of the Study showcased current research methods and shared early results.
Rhonda Smith, Director of UK-based I.Family communications partner Minerva, says, "ECO 2015 was an effective opportunity to raise awareness of I.Family and the questions currently being addressed by our research centres.  It's also a valuable networking exercise and enabled us to build further links with similar projects across Europe."
ECO has three objectives:
to provide a forum for the dissemination of information about state of the art research in the field of obesity
to foster the identification of innovative preventive and treatment strategies to reduce the prevalence of obesity and its associated burden of diseases
to provide networking opportunities for experts in the field of obesity research and management.
More information at www.eco2015.org